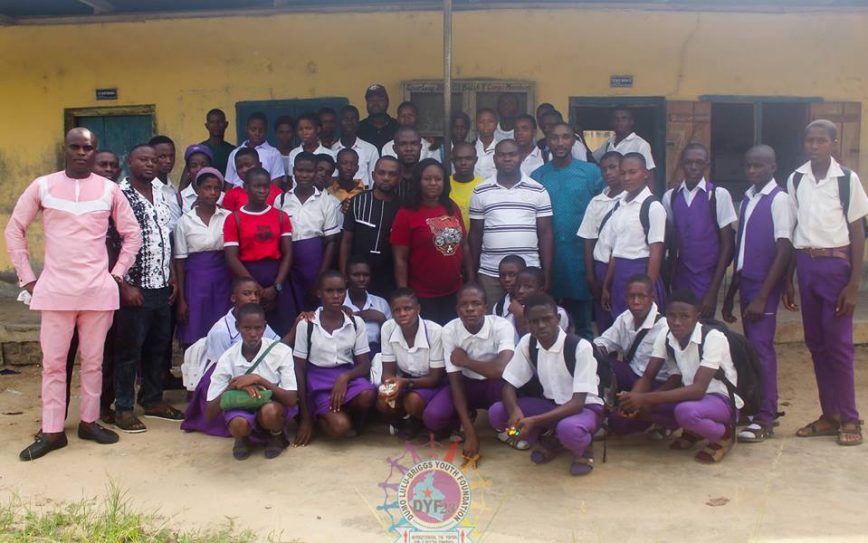 We have no greater responsibility, than to cater for the next generation. —

DLB
The Dumo Lulu-Briggs Youths Foundation, DYF23, yesterday, 26th April 2019, reached out to students of the Comprehensive Secondary School Odemereinye, Ahoada East Local Government Area Rivers State and paid for the registration of its students who had difficulty in registering for the annual Senior Secondary Certificate Examination conducted by the National Examination Council (NECO).
Led by its National President and other national executives of the Foundation, the event presented another golden opportunity for the advocacy of Youth development via career pursuits. Students were charged to take their academics seriously as it happens to be a veritable means of securing a prosperous future for themselves and their communities. The President Gift Ijinda, admonished the students on the importance of Education and adviced them to make the most of this opportunity. The Vice President of the Foundation, Comr Tonye Felix, seized the avenue to inform the students of the preparedness of the Foundation to support the every modest effort of every Rivers Youth towards attaining and securing their desired future. Stating that the doors of the Foundation remains constantly open to supporting their every genuine aspiration.
In their separate remarks the Principal of the School Mr Enoch Profit and a community leader and former councillor Hon. Ugwu Mac-Sunday, expressed their pleasure and delight at the gesture of the Foundation and its Grand Patron, Chief Dumo Lulu-Briggs, whom they described as the Ideal Rivers Elite.